Today's topic – the core. But before it happens: do you remember the post "How do you know you are good?" Let's summarize:
– Good deeds are good, but they do not provide salvation or intimacy with God.
– Good deeds have different motives.
– Human justice is not the same as God's justice.
– God wanted to free man from the law.
A sin
You may feel awkward speaking this word in the 21st century. It seems infantile. Today people make mistakes, they do wrong – because it gives them a privileged position to be the master of their destiny. I made a mistake? – Well, it will have consequences in my life.
I did wrong, betraying him – I will apologize and I will try to fix it. Maybe it'll succeed.
But the sin instead does not handle matters on the human plane. Sin puts responsibility on a human before God. Regardless of whether a person believes in Him or not. But sin has one essential feature – it is not called theft, adultery, malice, murder, gossip, addictions …. These are only effects. Sin made one decisive thing: it has separated man from God. Lucifer also became a devil through sin.
One day I will tell you all of this, but today I will go to the bottom: You need to be free from sin even if you do not realize it now. God also wants it for you. He wants to return to this original relationship with you, which he had with a man in The Garden Eden. He even gave the man the right to see the difference: what is a law and what is it.
Grace
While typing this word, music is going is playing in the background- throughout, the text was quite sad and heavy. As I typed the word GRACE, the salsa began to go : -) Because this is how changes the inner and then the outer world of every man who accepts grace from God : -)
Grace is not condescension
People have a problem with grace. We are accustomed to getting what we worked out ourselves or what we deserve; If someone offers us something completely free no matter what we have done, we consider it suspicious. Moreover, not for all the tea in China do we want to give anything to others. This is pride, with which we can say: "I did it myself, no one gave me anything as a gift!" So it is in the human world. And now something for those who do not despise the gifts:
The word "grace" just like "sin" hardly anyone likes. It was distorted just like the word "sin". You can hear when the husband talks about planned sex with his wife that they "intend to sin" and nonchalant "I do not need your grace!" (read: your condescension)
Well, you do need it. But not this one from man and first find out what this hated grace is.
God's grace is not a human's condescension. When a person is doing you a favor, it means that he gives you something out of his wealth. The thing is, whether time or a favor, he does not lose on a deal with you.
 But God demonstrates his own love for us in this: While we were still sinners, Christ died for us. (Romans 5:8)
God in the act of grace towards you, gave up everything he had. He did not complain. He never wanted to rub it in. What's more, he did what he did knowing that masses of people would not accept it anyway. Yet he died for every man who once lived, lived or will come into the world. He turned himself  into the hands of men because as the only being who could "get us back" to the Father.
What has He won for us?
– He recovered our community with God; Anyone who accepts grace can have as much God as he wants: directly and without limitation. He can in Him and with Him joy, peace, confidence.
– He has recovered for us the SINLESS nature. Yes, I repeat: sinless. At the moment when you accept grace, God looks at you as at Jesus.
– He made that a man after receiving his righteousness, grace, start to see himself anew. Gets a new identity, he has a good self-image and self-esteem.
– He has restored to us the legacy of the Kingdom of God. Brighter: Not only eternal life but also the Kingdom of God here on earth with all its qualities and gifts. Otherwise, when you accept grace, you become a living representative of God's Kingdom on earth. You have the authority of Jesus on earth.
– He pulled us out of the law, which accuses. For a man who accepts grace, there is no judgment. Many Christians still see themselves as sinners  saved by grace. There is no such thing. When you accept grace, I will repeat: In the eyes of God you are seen as Jesus: the man of God for whom sin is not a master. (Romans 6:14) 'For sin shall not reign over you, for ye are not under the law, but under grace.'
–  He made our past, all our previous sins erased once and for all. God will NEVER mention them. They no longer exist for him. There is a new YOU.
And now, in order to better understand the situation in which man is before and after the acceptance of grace, look at this juxtaposition: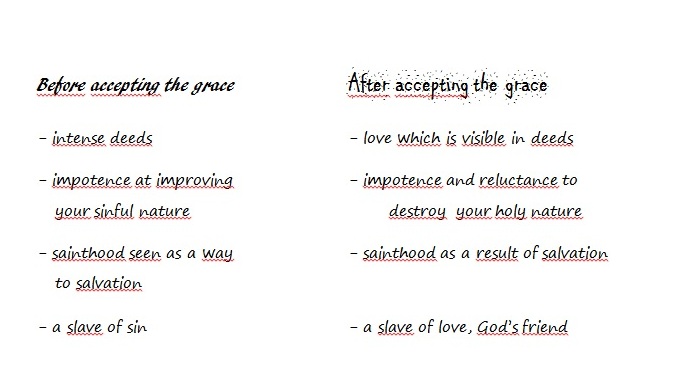 Surely your minds are born with thoughts and questions;
And what about sin after receiving grace? It is impossible not to sin! What will God want me to do next? How do I live after receiving grace?
You will read about all of this in the following parts.

How to accept grace?

I thought you would not ask : -) All you need is thirst. If you are ready to tell God today YES – do it. You can use similar words;
God, I know that I need your grace and forgive me all my faults . I am now a sinner, but I do not want to be judged by law, so I fully accept your love. I accept that Jesus died for me and rose from the dead, and that from that moment I have access to your throne. I want to be a part of your kingdom, I want your real presence in my life. Jesus, I accept you into my life and I accept your justice. (Amen)
Since when does grace begin?

From the moment you have accepted it. Do you have a problem with that? Play the first song 'Wilderland' (soundtrack Hobbit – the Desolation of Smaug) – it is YOU before accepting grace. Then switch to 'Sound of the Shire' (Lord of the Rings soundtrack). – it's YOU after receiving the grace = justice of Jesus: -)
Before you ask:
The grace we have through Jesus is completely free. Jesus already paid. He did it once, well and forever. You cannot add anything else to either you or anyone else.
No matter how much you have sinned in your life. Jesus died for absolutely EVERY sin. He died for the sinful nature of man. There is no way God can reject anyone. 'Everything that the Father gives me will come to me, and He who comes to me will not throw away' (John 6:36).
No matter how good you are. You still need grace, because "no man shall be justified by the works of the law": -) (Rom 3: 20)
By receiving grace, you receive the righteousness of Jesus, giving up your own. You admit that you alone cannot save yourself.
God will accept you as you are. It does not matter your sex, age, occupation, past. Just come to Him. Today's best: -)
You do not need any treatments or preparations. Only willingness – inner consent that you need grace.
The only thing you need to believe is that Jesus Christ, who is God, came as a man, died for you and rose again.
Grace knows no limits. Accepting it is like giving a hand to God who is on the train and going out with him on this train for a wonderful trip 🙂 Or maybe a feast together?
Here I am! I stand at the door and knock. If anyone hears my voice and opens the door, I will come in and eat with that person, and they with me. To the one who is victorious, I will give the right to sit with me on my throne, just as I was victorious and sat down with my Father on his throne. (Revelation 3, 20-21)
Are you ready to start a new phase in your life as a new You? Need a word of blessings in your direction? I send them to you; You who are reading this, let the Spirit of God shake your hearts and awaken in you a great, unbending desire to receive grace and to turn to God's side of power, amen!
Do you have any questions? You can write me an email (koritheu@gmail.com).
Do not hesitate, come into Father's presence even today – this is just great! -)
Bless you all!