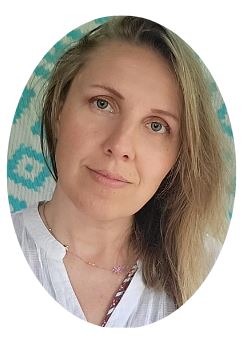 My name is Iwona, and the post you are reading right now is the word of God and a man, for you.
If you are here, you are probably going through some form of difficulty, perhaps suffering, related to your illness. I understand you, but more importantly – God, who cares about you and your health, also understands you.
This post (and in the future, I believe, the printed book) would probably not have happened if it weren't for my own physical suffering. My spine has been bothering me for over 20 years, but it was only in August 2022 that several other problems with my health came to light and since then there has been no end to the examinations, tests, diagnoses and therapies. As a result, there are both material and psychological costs.
As I fell asleep and woke up with the question in my head, "Will I ever feel good again?" at some point I realized that there are thousands of sick people in our country and that each of them, as well as their loved ones, struggle not only with logistical, material, but also mental difficulties. These are often a feeling of loneliness, of living in isolation – as if on another planet. It is often hope in the face of exhaustion, discouragement, anger, and even the personification of the disease. And I wanted to bring support, hope and joy to these people, being one of… you. But I had no idea what it would look like?! In what form?
The answer came from the mouth of a certain beautiful Aleksandra. During our language classes, I asked her a routine teacher question: What are you reading now? And she reached over to the shelf and showed me the cover of a book with the rather repulsive title "The Power of Positive Thinking" by Norman Vincent Peale. However, when she started talking about this book, I was so intrigued that I decided to read it. Five days later I already knew what form the texts you are holding in your hand would take!
I will write about the texts you will read here as "book" because they were written with the intention of being printed.
The very title of this post "Is anyone among you sick?" is a quote from the Bible, from James 5: 14, about praying for healing.
Therefore, the book consists of 31 texts – not too few, but not too many, because these are texts that need constant repetition. I didn't want you to have something new 365 days a year, because the whole truth about God and you – a human being – can be contained in fewer words, but you can repeat them to yourself until you succeed!
You do not have to read these texts – and they will appear successively – in order. Look for them in the category named "ENGLISH".
Each "day" consists of 3 parts: something for the spirit (Biblical text), the soul (my personal experience, testimony, commentary) and the body (what you can do for your body that needs attention).
I also suggest that you allocate one text for only one day and "walk" with it 24 hours a day, a week, a month, a year… and program your mind with the given words.
Memorize these quotes from the Bible, repeat them aloud, let every cell of your body believe in these simple truths and come alive with them! They must convince your soul and become your true nature!
If you know someone who needs these texts, please share them. Do you want to know what the entire Pociesznik (= A Comforting Book) project looks in Polish like? Take a look below. The book also has a cover.
I bless you, wishing you a return of vitality and life with the joy of God!
If you would like to share something with me, give me feedback on whether these texts helped you, do not hesitate to send them to me
e-mail: [email protected]
Let God bless you!
Iwona